National Geographic Magazine
We are very big fans of the National Geographic magazine, and most visitors to this web site are probably familiar with it. Although 'national' is in the title the magazine is a truly international publication, exploring every inch of the planet. Any fan of nature, the planet, or the films celebrated on this website should have a National Geographic magazine subscription.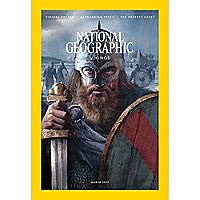 Save 76% on the cover price. Just $19 delivered!
USA: $19
Canada: $22
International: $37 / £25.
The flagship publication of the National Geographic Society, the magazine continues to be one of the most widely regarded publications worldwide. The magazine chronicles the adventure, discovery and the exploration of the Earth, as well as the issue that impact it. The people and places of the world are captured with stunning photography, and always accompanied by excellent literature; from many well known and lesser know authors. Read by academics, taxi drivers, school children and creators of films on this website. The magazine has something for everyone.
Content
The articles cover a range of subjects including culture, geography, history, archaeology, sociology, biology and science. Not only are the articles expertly written, but they are always accompanied with stunning photography. The authors and photographers for the National Geographic represent a very broad cross section of the world's people. Whether living in the country, the city, in the north or the south, and from every religion, contributors for the National Geographic are found worldwide.
The Maps
The maps are a quintessential part of The National Geographic magazine. Maps regularly find their way into the National Geographic. If not a map then an equally superb foldout poster, expertly detailing the current topic.
Education
School children the world over will have learnt a great deal from the National Geographic maps. But it doesn't just stop with children. Every time I have pick up a National Geographic magazine I learn a great deal, often about something I did not realise I was so interested in. Every person I know who loves the magazine cannot leave it alone. The topics are so diverse, and yet often so subtly interlinked.
The films
It would be hard to imagine the film makers of the films in this web site not being huge fans of the National Geographic magazine. I know many of the directors and cinematographers have used images and articles from the magazine as direct inspiration for locations or scenes in their films.
Subscription
A subscription to the National Geographic magazine is an excellent purchase to keep one in touch with the changes and issues of the planet over a year. A subscription also makes a fabulous present. Image how pleased you would be to receive a subscription as a gift!
History
Founded in 1888 The National Geographic Society was founded as a non-profit educational scientific organisation. More than 6500 explorations and projects have been supported the society in its history.